The Any Surface Broom is a revolution in sweeping!
Traditional brooms wear easily and dust with each use. The Any Surface Broom is made with 100% poly-isoprene rubber which is built to last so you'll never have to worry about buying another broom again. Its completely waterproof and easy to clean, just run it under the tap or pop the head in the dishwasher.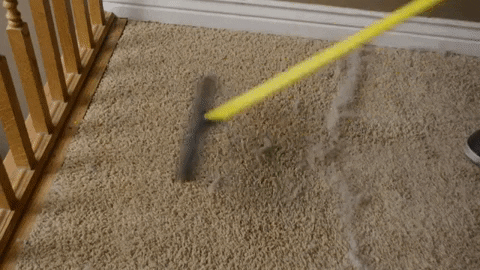 The 500 rubber bristles generate an electro-static charge that draw hairs in and firmly holds onto them. The bristles grab and drag pet hairs that are deeply embedded in carpets that even vacuums can't remove. Perfect for sweeping dust, food, hairs and liquids from any surface!

The Any Surface Broom comes with a built-in squeegee for when you need to clean spills, windows or cars. Grab a bucket, use the bristles for scrubbing, then turn it over and use the squeegee for removing surface liquid. Perfect for getting a streak-free shine. The handle is fully adjustable from 27.6 to 50.1 inches, making any skirting, car roofs or windows easy to reach.
Replace your old brooms that easily wear and collect dust. With the Any Surface Broom, you'll be saving time, money and storage space all while getting better cleaning results!
Available in 6 colors.